I once met a man on Hinge who said his biggest dream in life was to stay Cut off. This is interesting because I am not the only one Cut off passionate, but I'm also a fool in the kitchen and would love to meet someone who can cook me delicious food. But when the questions changed and they started asking me what my secret would be, I couldn't think of anything but Trader Joe's frozen rice – because the only thing I really knew how to cook is Trader Joe's frozen meals.
I have a few recipes that I make from time to time, but for the most part, I rely on a freezer full of my TJ's favorites for a week's worth of meals at home. To keep things fresh, I keep everything and mix things together instead of eating a big bowl of Mandarin Orange Chicken every time (actually, I still do some days). The result is always a quick, delicious meal that requires little to no cooking skills. Here are my trusted Trader Joe's frozen meals to get me through the week:
1. Broccoli Florets + Spaghetti Cacio e Pepe + Boiled Shrimp
In my opinion, Cacio e Pepe from Trader Joe's is the richest, most delicious offering in their line. But when I add a veggie and some protein, it's a complete meal that doesn't make me feel like I ate a big bowl of pasta and cheese. This dish is amazing with shrimp, but I make it with chicken, too!
2. Chicken Chow Mein + Chicken Gyoza Potstickers
I only tried this Chow Mein a few months ago, but it quickly became my favorite once I realized how easy and delicious it was. I like to make this with an added protein side (like these potstickers), and it turns into a filling dinner that tastes like Panda Express.
3. Cauliflower Gnocchi + Pesto + Broccoli Florets
A perennial favorite of every Joe's go-er customer, cauliflower gnocchi and a little pesto and veggie is a classic combination that never fails. I like to add protein sometimes- TJ's chicken sausage is great with this! Since it's a great take-out meal, I make this for lunch and dinner often. I take the gnocchi out of the air fryer and put it in a little pesto. I also sometimes add pasta sauce—it just depends on what I have in my fridge!
4. Asian cuisine with soy sauce + riced cauliflower + chicken broth roll.
When I want a veggie-heavy meal, I'll put these frozen vegetables and roasted cauliflower in a bowl. This combination is great for lunch when I know I'll be indulging in a big bowl of vodka that evening while watching. Bachelorette. For some added protein, I'll cook a few of the chicken broth rolls or add some cooked chicken, too.
5. Chicken Nuggets + Broccoli Florets + Mac & Cheese
Trader Joe's plethora of mac and cheese options make for an amazing lunch to have on hand, but having just one of those little packages doesn't satisfy me. So I give them broccoli and chicken for protein, and if I'm feeling down, I'll add buffalo or hot sauce. It's a perfect WFH lunch that takes less than 10 minutes to throw together.
6. Chicken Fried Rice + Steamed Cauliflower + Chicken Cilantro Mini Wontons.
Mixing TJ's fried rice with roasted cauliflower is one of the oldest tricks in the book. When they're combined, you can't taste the cauliflower at all, and it adds a veggie to the dish to lift it up a bit. Then I add chicken cilantro mini wontons and a little stir-fry sauce for dipping, and there you have it: one of Trader Joe's frozen meals for the weekend.
7. Baked Chicken + Turkey Corn Dog + Dill Pickle Mustard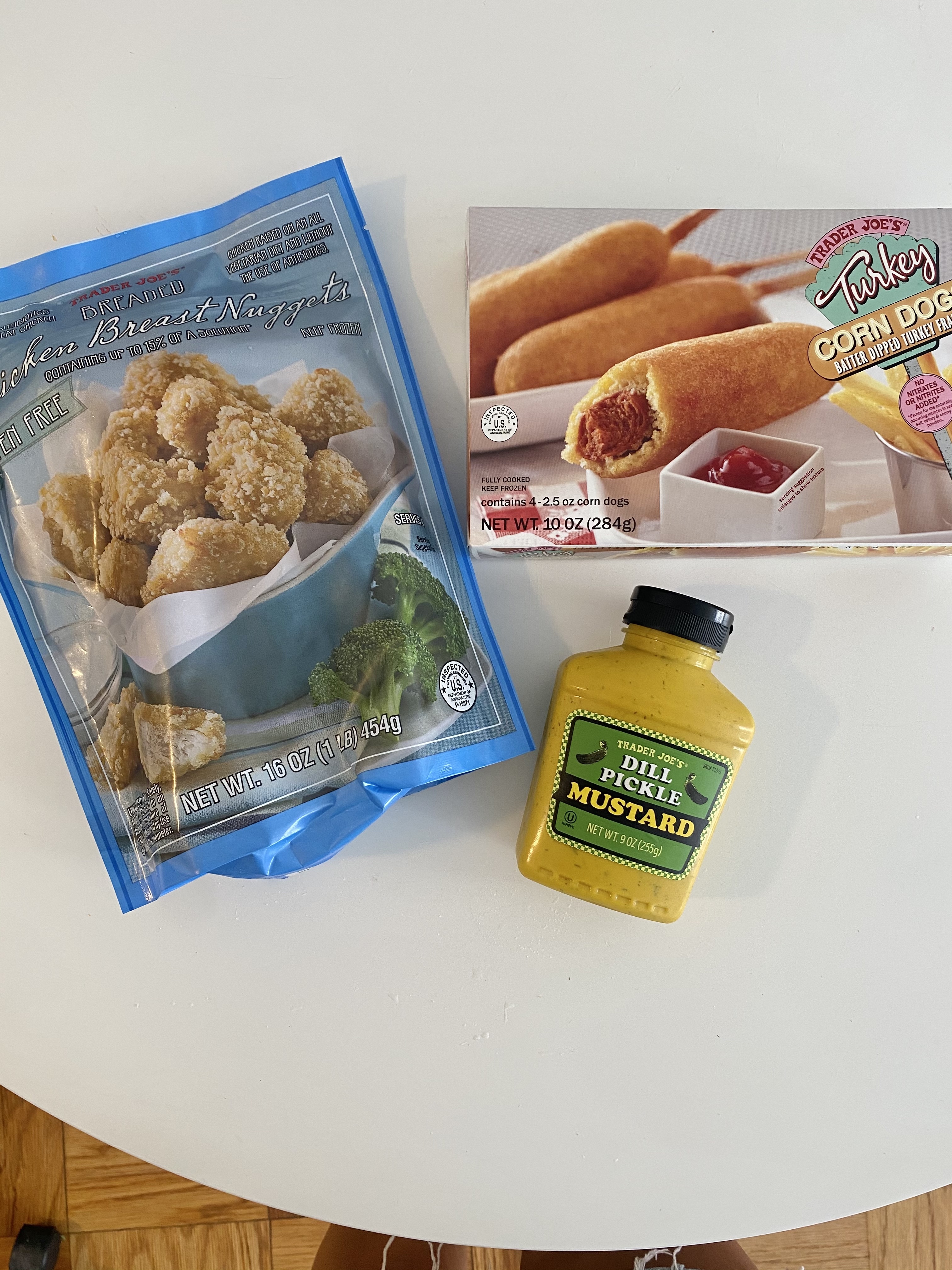 When I'm craving an amazing lunch, I choose this. Trader Joe's Turkey Corn Dogs are without a doubt one of my favorite things in the world. I love them so much that when I went home recently and ate my favorite food of eight years, I never heard of a corn dog that wasn't TJ's. I pair them with these baked chicken pies and my favorite condiments. You can use any condiment you like, but for now I want to express my undying love for Dill Pickle Mustard. Please, Trader Joe's, do not remove this item. It is the best condiment I have ever tried very much Long time.
8. Japanese Style Fried Rice + Thai Flavor Chili Veggie Burger
Japanese fried rice is my favorite item at Trader Joe's. I can eat all the bags of this stuff in one sitting (I will feel disgusted, but my heart and taste buds will be happy). I usually top it with a fried egg and then add a Thai veggie burger and a little sriracha on the side for extra protein.
9. Mandarin Style Orange Chicken
Look, sometimes I eat a bowl of Mandarin Orange Chicken! This cool post has saved me too many times to count. I keep one in my freezer at all times in case of an emergency. It tastes just like a big bag of the classic Trader Joe's Mandarin Orange Chicken we all love but with rice and added veggies. This also works well when I have to go to the office and need to pack a lunch in my bag, too.
10. Vegetable Artichoke Dip + Pasta + Baked Chicken
One of my favorite Trader Joe's hacks is using Creamy Spinach & Artichoke Dip as a pasta sauce. I saw this on Instagram once, and it has been a life changer. I cook the pasta I like and prepare the dip as instructed, then I use a little water to pour the noodles over the noodles to bring them out. It makes a perfect, creamy sauce. I add roasted chicken for a bit of protein and make a salad on the side (sometimes adding in veggies or other vegetables) to make it a complete dinner that's enjoyable though. it is very simple.
10 One-Pan Trader Joe's Recipes That Will Make Your Life Easier