I'll be the first to admit that I'm quick to jump on the new TikTok bandwagon. The 12-3-30 workout, all the coastal cowgirl looks that I've been wearing and repeating so far this spring, the list can go on and on. When I recently got this shower system, I knew I had to give this a chance.
If you are wondering what in the world all the showers are, 1) I am truly honored to be the one to make you understand that 2) your life is going to change for the better. Everything in the shower is exactly what it sounds like. It's not your usual routine, it's a long, deeply cleansing shower that's increasingly becoming a luxury self-care practice. It can include as many procedures as you want—from brushing to scalp massage.
Now if you're like me, this deep soaking routine can seem a little intimidating. When I first started participating in the ultimate personal care experience, I didn't know where to start or what products to reach for. That is until I tried Athena Club: inspiration behind all my bathing habits.
Athena Club is a sustainable and affordable beauty and personal care brand that caught my eye a few months ago at Target and has been in my stash ever since. They offer many high-quality, impulse-buy-worthy products that are as delicious as they are effective. (Plus, now we're giving you another excuse to click "add to cart" because you can. 25% off your first Athena Club purchase using any code!) When they are used Razor kit, Cloud Shave Foam, Dewy Body Lotionand Body wash creamI knew I had found the starting lineup for my series.
Athena Club shaving products are definitely the crème de la crème of all my shower gels. In honor of the silkiest, smoothest beard I've ever had, here's what's left of my head-to-toe every-shower to help guide you: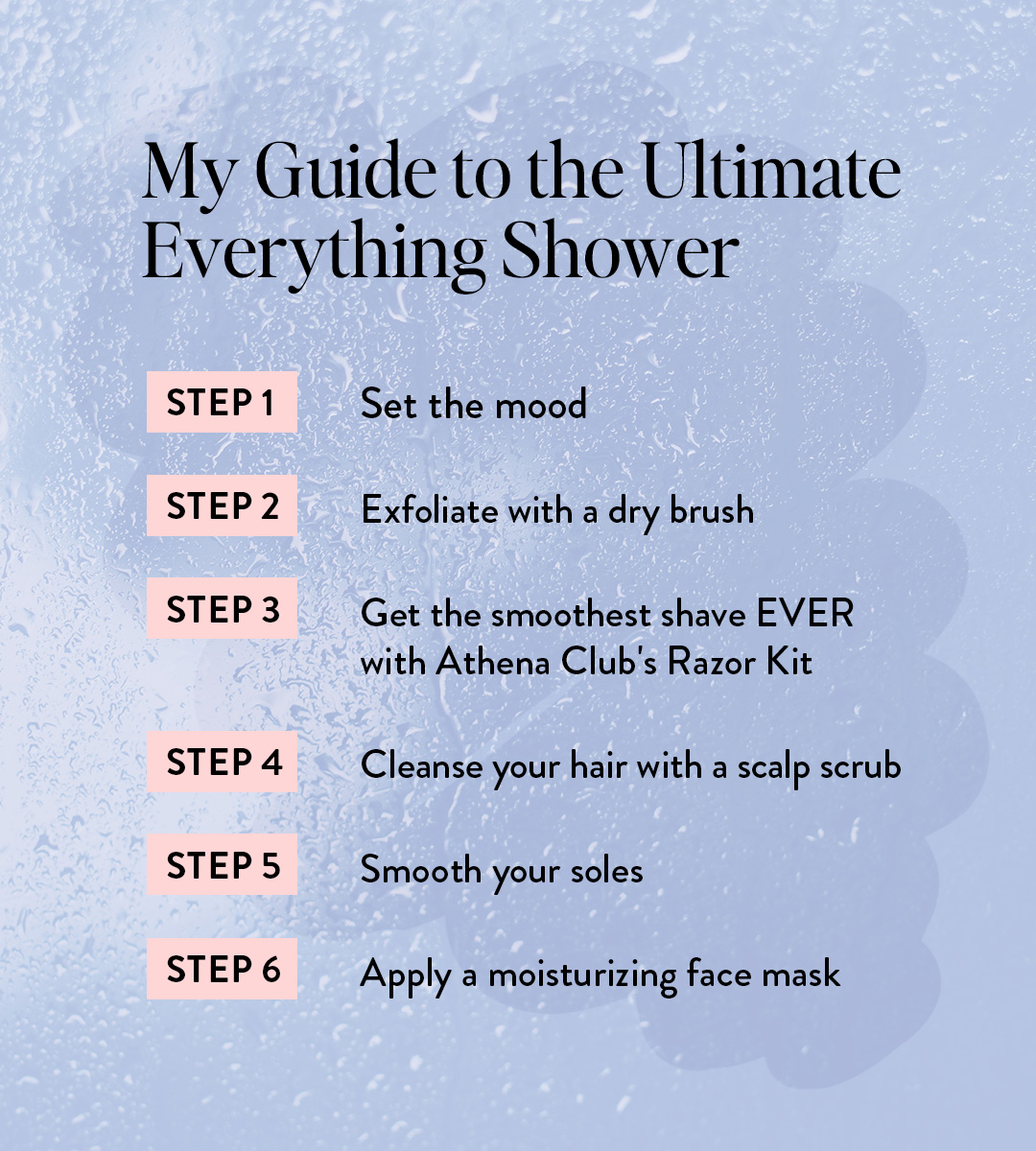 For conditions:
I always start my shower by setting the vibes. I like to make good time because honestly, I have time to take care of myself (if I do say so myself). Whether you're doing something as simple as putting on your favorite playlist (Taylor Swift, do your thing, girl) or investing in some products that can make your bathroom a home, this step is essential for making your whole bath stand out and yours. -and-out cooling.
For the body:
Before I get into my shower, I grab a dry brush and gently massage my skin – starting from my legs and working my way up to my chest. ICYMI: using dry herbs exfoliates and improves skin texture while increasing blood circulation and promoting lymphatic drainage. Our wellness editor swears by this step and since I've incorporated it into my routine, I've been a fan forever.
For the best haircut of my life:
As soon as I get into the water bath at a low of 500 degrees, the real fun begins. After staring at the wall and contemplating life for a few minutes, I went to one of the best products in my entire shower routine: Athena Club's Razor Kit.
Athena Club made blades based on people's style of course beard—and it shows. When I use this little guy, it follows me with its easy ergonomic handle and leaves the closest hair to me. If I'm being honest, I might be a bit by bit of the shaver I rely heavily on the built-in skin guards and they haven't let me down. I never have any chips or scraps, even in those hard to shave places like knees and ankles, when I use this blade. When I first saw the price, I didn't expect to like this but I can honestly say that it has earned a permanent place in my bathroom routine.
To get the full experience, pair yours Razor kit and them Cloud Shave Foam, Dewy Body Lotionand Body wash cream which made my feet feel as soft as can be. Plus, the Athena Club just opened at Target which makes your fix easier than ever (or, if your vibe is 25% off, visit their website and use any code GIRL to get 25% off the first online purchase).
For the skin:
Now, it's time for one of the most underrated parts of what I'm doing and the steps I can't believe I've lived for so long without shaving. If you're looking to remove build-up and keep your scalp and hair clean while giving it a good shine, adding hair to your hairline is a good place to start. It's as easy as one, two, three: Gently massage the product into your scalp, wash it thoroughly all over your head, then rinse thoroughly with your shampoo and conditioner.
For legs:
Every bathroom needs a full head to toe treatment. Using just a mild moisturizer gives my soles a much-needed boost by exfoliating and removing calluses. First, I slip my feet and rub the bottom of my feet with the rough side of the wood before rolling the wood smooth.
For face:
I like to keep the good vibes going even after I take my shower. I always end all my shower routines by putting on my favorite face mask overnight to help lock in moisture and set myself up for the glow that continues to provide. My skincare goal in life is to look like a shiny donut after applying all my products, and trust me, this stuff gets the job done.
This post is sponsored by the Athena Club, but all opinions contained are those of the Everygirl editorial board.