Posted by mth216 on 11th September, 2020   |   Comments
Kogi State University, (KSU) Ayingba, now called Prince Abubakar Audu University (PAAU) has announced the resumption of academic activities for the continuation of 1st semester, 2019/2020 session.
The resumption is for all levels of students at the University. The examination will commence on October 2nd, 2020. See the important dates for the conclusion of the 2019/2020 1st semester and commencement of 2nd semester.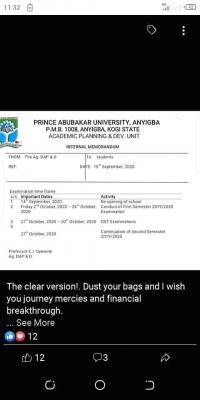 Important Dates
14th September 2020 – Reopening of school
Friday 2nd October 2020 – 26th October 2020 – Conduct of First Semester 2019/2020 Examination
27th October 2020 – 30th October 2020 – GST Examinations
27th October 2020 – Continuation of Second Semester 2019/2020